Warning: The following post contains mature subject matter. Reader discretion is advised.
In my opinion, Christmas season is indeed the busiest retail season of the year. Not to mention the fact that it's expensive!
Are you done Christmas shopping yet? I got most of my shopping done, and we are only waiting for few other things we ordered online. Right now, I'm just enjoying the season.
Shopping for Christmas present doesn't really have to be so extravagant and expensive. It could be simple yet meaningful and it is also better if it is useful.
If you still don't have any idea on what type of gifts to buy for your sweetheart, why not give her a sexy lingerie? You should check out EdenFantasys for more sexy selections. There's nothing to worry about the price because each item is very affordable. You don't have to spend a fortune and you will not regret buying them.
I'm recommending this Velvet Santa costume to spice up your holiday season. This costume is made out of stretch velvet that feels so soft against your skin and hugs your curves, making them look even sexier. The red hooded jacket features short gathered sleeves and a white marabou trim that extends all the way around the hood. The jacket ties shut in the front with a large matching satin ribbon, creating a V neckline. The bottom style features boy shorts with attached elastic belt and contrastive marabou trim.
For more sexy gift ideas, you should visit edenfantasys.com today! EdenFantasys is an adult novelty store, sells adult toys, massage oils and lingerie along with many other items.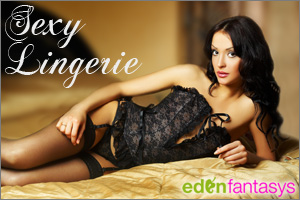 This post brought to you by EdenFantasys.