Headphones have become trendy items these days. It has the ability to take your music anywhere you go. Buying a decent set of headphones may not be as simple as you think. With so many choices available and so many things to consider, you cannot just buy the first set that you'll see. In order for you to fully appreciate the
audio capabilities
of your gadget, you need to choose it carefully. There are large number of selections for ipod and mp3 players that are available in commercial stores today. They also come in a variety of designs and colors that can suit your preferences. It'll be up to you if you like to stick to popular brands or if you like to explore other options and look into other less popular brands.
If you don't have the time to go to different stores to shop for it, you can just buy them online. There are different stores that offer the latest models and brands of headphones. To make selection faster and simpler, you can choose via different categories such as sports, gaming and wireless. You can also filter your choices via the price range so that you'll only get to choose that fit your budget. With just a few clicks, you'll have the perfect audio companion for your ipod and mp3 player.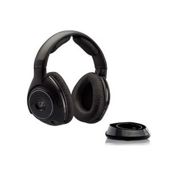 I'm thinking of buying a new set of wireless headphones for my husband. His old one is not in good shape anymore. I'm sure a new set would be great for his mp3 player.